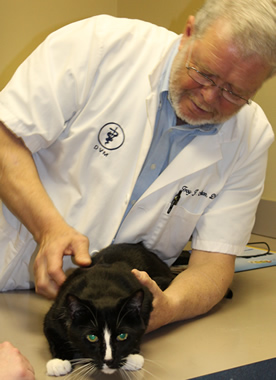 Veterinary chiropractic care has proven beneficial to pets recovering from surgery or injury or in dogs and cats that have joint degeneration or arthritis pain.
What is veterinary chiropractic care?
Animal chiropractic is a health modality that seeks to preserve normal function in the neuro/muscular/skeletal system. Nerves control all that our bodies do and if the nerve transmission is compromised then the body doesn't function as well as it was designed. Joint immobility can reduce the nerve transmission and therefore relieving this immobility can help the nerves. With normal joint and nerve function, the body can more easily heal itself. Chiropractic is not meant to take the place of conventional medicine, but rather to complement and attempt to keep the body functioning optimally.
What conditions respond well to veterinary chiropractic care?
Our veterinarian will evaluate your pet's condition and work with you to determine if chiropractic care would be of benefit.
Some common conditions we refer for chiropractic treatment include:
Post-surgical recovery
Arthritis
Joint degeneration
Back and neck pain and stiffness
Tail injuries
Injuries from slipping and falling
Incontinence
Constipation
Hip dysplasia
How can I tell if my pet has arthritis?
Our veterinarian will help you recognize the signs of arthritis in your pet and begin a treatment protocol to restore his or her comfort and mobility. If you notice any of the following symptoms, schedule an appointment to have your pet evaluated:
Reluctance to exercise or walk
Lameness
Unwilling or unable to jump on favorite couch or bed
Lethargy
Loss of appetite
This article from AAHA's Healthy Pet website also has some excellent information on pet arthritis.
If you are concerned about pet arthritis, joint pain, or any other musculoskeletal pain, please contact us for an appointment and we will evaluate chiropractic care as an option. If that is the course of treatment pursued, we will refer you to Dr. Troy Nelson at Countryside Veterinary Hospital, our sister clinic in Toney. Dr. Nelson is certified by the International Veterinary Chiropractic Association.