Our Veterinarians
Angelique Lawrence, DVM
Angelique Lawrence, DVMwas born and raised in Starkville, MS. She received her Bachelor of Science and Biology degree from Mississippi State University in 1996 and later graduated from Mississippi State University College of Veterinary Medicine in 2000.
She has been practicing in the Madison area since graduating and has established a strong bond with her patients and clients. Dr. Lawrence's focal interests are in the areas of internal medicine, advanced dentistry, and soft tissue surgery.
In her spare time, Dr. Lawrence enjoys Pure Barre and spending time with her family, husband John, children Andrew and Olivia, and English bulldogs Luke and Grizzly. Together they enjoy watching and playing soccer, traveling and attending Mississippi State football games.
Erin Brown, DVM
Erin Brown, DVM is a 2010 graduate of Auburn University College of Veterinary Medicine. Prior to veterinary school, she received a Bachelor of Science in Biology and Chemistry from the University of Alabama in Huntsville. Her veterinary interests include emergency and critical care, dermatology, internal medicine, advanced dentistry, exotic pets and surgery.
In her spare time, she enjoys spending time with her husband, Ryan, and daughter, Campbell, as well as staying involved in Building Church, teaching Pure Barre, and running. Dr. Brown has two puppy daughters named Twinkey and Lulu and one super-sized cat named Tater Tot.
Connor Sindel, DVM
Dr. Sindel grew up in Mobile, Alabama. She went to Middlebury College in Vermont and then returned home to the South to attend Veterinary School at Auburn. She graduated in 2013 with a special interest in Dermatology, Dentistry, Behavior and Exotic Animal Medicine.
Dr. Sindel lives in Huntsville with her 2 German Shepherds, Levon and Carson and her cats, Floyd and Gilbert. When she's not working you can most likely find her outside hiking, swimming, fishing, running or maybe just playing in the woods.
Veterinary Staff
Ruth Freeman, Office Manager
Ruth Freeman brings over 20 years of veterinary experience to the practice. Born and raised in England, she crossed the pond and moved to Madison in 1990. She lives in Madison with her husband Kevin, daughter Kiri and son Thomas. In her free time, she enjoys fox hunting with the Mooreland Hunt on her horse Sweep and trail riding with her dogs Highbury, Winston, Thirston Peabody and Canterbury following along. At home she over feeds her cats James Bond and Krinkle.
Elizabeth Abbott, LVT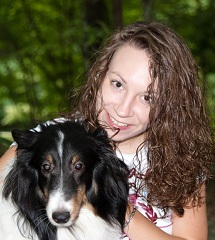 Elizabeth Abbott was born and raised in Huntsville, AL. She received her Associates degree in Veterinary Technology from Columbia State in Tennessee and became a Licensed Veterinary Technician in 2011. In her free time, Elizabeth likes to kayak, sleep and spend time outside. Elizabeth's family includes Ellie (a terrier mix), Annie (a Shetland Sheepdog), and Bella (a Border Collie).
Cara Holder, Veterinary Technician/Receptionist
Cara Holder was born in Pittsburgh, PA and raised in Birmingham, AL. She has been in the in the veterinary field since 2004. She moved to Madison in January, 2013. In her free time she likes to run, be outside and spend time with her husband, Jeff and her sweet little boy, Ryan. She has a tabby cat named Penelope.
Jennifer Castellano, Veterinary Technician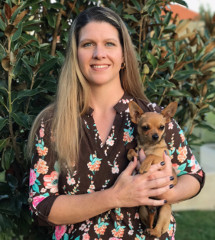 Jennifer began working in the veterinary field in 1995. She is a transplant from Benton, Louisiana, moving here in October 2013 for her husband's job. She lives in Athens with her husband, Robert, and twin daughters, Rebecca and Marissa. In her spare time, she likes to read, watch movies and spend time outside with her family. She shares her home with Batman (Chihuahua), Wilbur (Lab mix) and two cats, P.C. and the very large Little Man.
Christa Marik, Technician Assistant
Christa moved to Huntsville in 2002 from Texas. She is an Army Brat and has lived all over the world. Her love for animals goes back to early childhood. Christa has worked in the veterinary field before but took some time off to raise her two boys, Zachary and Lincoln. Her four legged children are two Australian Shepherds, Bianca and Lucky and a 3 legged cat named Grimm. In her free time, oh wait, she doesn't have any free time!
Brittni Long, Kennel Manager/Veterinary Assistant
Brittni has been working in the veterinary field since 2012. She is working towards becoming a Certified Dog Trainer. She was born in Arizona and moved here in 2003 from San Diego. In her spare time she enjoys painting, hiking and spending time with her lovely dogs Oggie (Mastiff mix), Maddie (Chihuahua mix), Harlee Quinn (Yellow Lab), Riley (German Shepherd mix) and her black cat Nash.
Christina Murders, Veterinary Assistant
Christina is a trained Veterinary Assistant. She began her career in veterinary medicine after graduating from the Ross Medical Education Center in Huntsville. She has had a passion for helping animals ever since she was a child and she is making big plans to one day be a doctor of veterinary medicine. In her spare time she volunteers in animal shelters and enjoys being outside with her Dalmatian mix Ivy.
Chelsey Ray, Kennel Assistant
Chelsey Ray has lived in Huntsville/Harvest for most of her life. She is an artsy, hippie girl who is attending University of Alabama Huntsville for Photography. Chelsey has always had a love for animals and is very glad to be able to work with them. She has 2 pets, a Toy Poodle named Rosie and a Shih Tzu/Chihuahua Mix named Gizmo.
Joy Westphal, Groomer/Veterinary Assistant
Joy began her career in Veterinary Medicine in 1995 as a Veterinary Assistant. In 2006, she began grooming. Joy joined the Pet Hospital in 2014. She enjoys fostering (foster failing) for a local rescue and has quite a zoo of her own at home.
Herbert III, (aka TURDBERT), Supervisor
Herbert III is vibrant in color and personality. He enjoys greeting clients, swimming laps and decorating his home for the holidays. He manages our deliveries from UPS and FedEx and shares his "fertilized" water with our plants. He is a great listener and keeps the receptionists company.