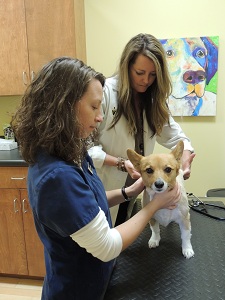 At The Pet Hospital of Madison, we stress preventive pet care, including annual physical exams, because we want your pet to have a healthy and long life, as we know you do too. Preventive care results in protection from many of the most common pet diseases and it allows our veterinarians to detect and correct small issues before they develop into larger problems.
While 12 months may seem like a short time to us, it's a significant expanse of time for your pet. Our pets age more rapidly than we do, so one year can make a big difference in your animal's health. Your five-year old dog may still feel like your baby, but he's already middle-aged!
We recommend annual blood work, which provides clues to how the body and its internal systems are functioning. Blood tests screen for liver and kidney disease, infections, diabetes, thyroid issues, and more. Blood panels can provide the first clue that something is amiss, meaning faster treatment. Early treatment is less invasive, less costly, and often aids your pet's recovery.
Increasingly, the importance of pet dental care is being recognized as an essential aspect of preventive pet care. The Pet Hospital of Madison has a reputation for providing the finest pet dental care, along with advanced procedures like bonding, complex extractions, pulpectomies, and root canals.
What happens at a pet's annual exam?
Our veterinarians will work with you to develop the best preventive care measures for your pet. Whether you have a young puppy or kitten, an adult pet, or an elderly animal, the experience of our doctors and staff will provide your pet with the best possible care.
At a typical annual exam, pets are provided with:
Complete physical exam—The Pet Hospital of Madison's veterinarians will examine your pet from nose to tail, checking eyes, lungs, abdomen, heart, joints, muscles, skin, and coat.
Oral exam—Your pet's teeth will be checked and any recommendations for at-home or in-hospital care will be given.
Parasite prevention—All pets are checked for intestinal worms and blood parasites and preventive or treatment options are discussed.
Additional diagnostics as needed—If any further evaluation is required based on your pet's condition or age, our doctors may recommend testing such as blood work, skin cytology, urinalysis, or other diagnostics.
If you would like more information on what to expect at a veterinary examination, you may enjoy this article by Pet MD.
What kind of preventive care is available for pocket pets?
The Pet Hospital of Madison highly recommends yearly physical exams for all pocket pets. With the exception of ferrets, most pocket pets do not need vaccinations, but they do benefit from being regularly examined the same way that dogs and cats do.
Understanding the specific care needs of your pocket pet is very important for continued quality and length of life. The American Association of Animal Hospitals provides excellent information on pocket pet care and our veterinarians and staff are always happy to answer your questions.